Getting to the Trailhead
6:00 My alarm goes off at the same time as the church bells, every weekday at 6:00. I feel better than I did the night before. My nose was running, I did a Netti-pot and took a bath. Let's see today if I can keep this fall cold away.
At 6:45 I bring Jörn his morning espresso and I jump into the shower. I made myself a fat-coffee, decaf to start the day. I make the decaf coffee in a French press then pour it into my blender with a tablespoon of grass-fed Kerrygold butter and a tablespoon of MCT oil. I blitz it for 30 seconds, mostly just to cool it down. This is seriously yummy stuff and it keeps me full all morning.
I drank my coffee while cutting up my maps for the trip. I bought a new bike and this is our first multi-day ride. I bought a handlebar bag from Ortlieb and there is a waterproof pouch to put maps. We will be trekking with technology as well but it's nice to have the analog map handy.
7:00 Jörn gets up and starts to get ready, I have my salad for breakfast and make him a sandwich for the train. We are ready quite early, it's great to have time to spare so there is no rushing.
8:00 We leave for the train, take the 8:22 from Rheinfelden to Basel SBB. The bikes are heavy with the panniers and because it's a weekday we choose to take the s-Bahn train after the morning rush. We also don't need to lift the bikes to board the s-Bahn. Basel is small, we meet some friends getting off the train.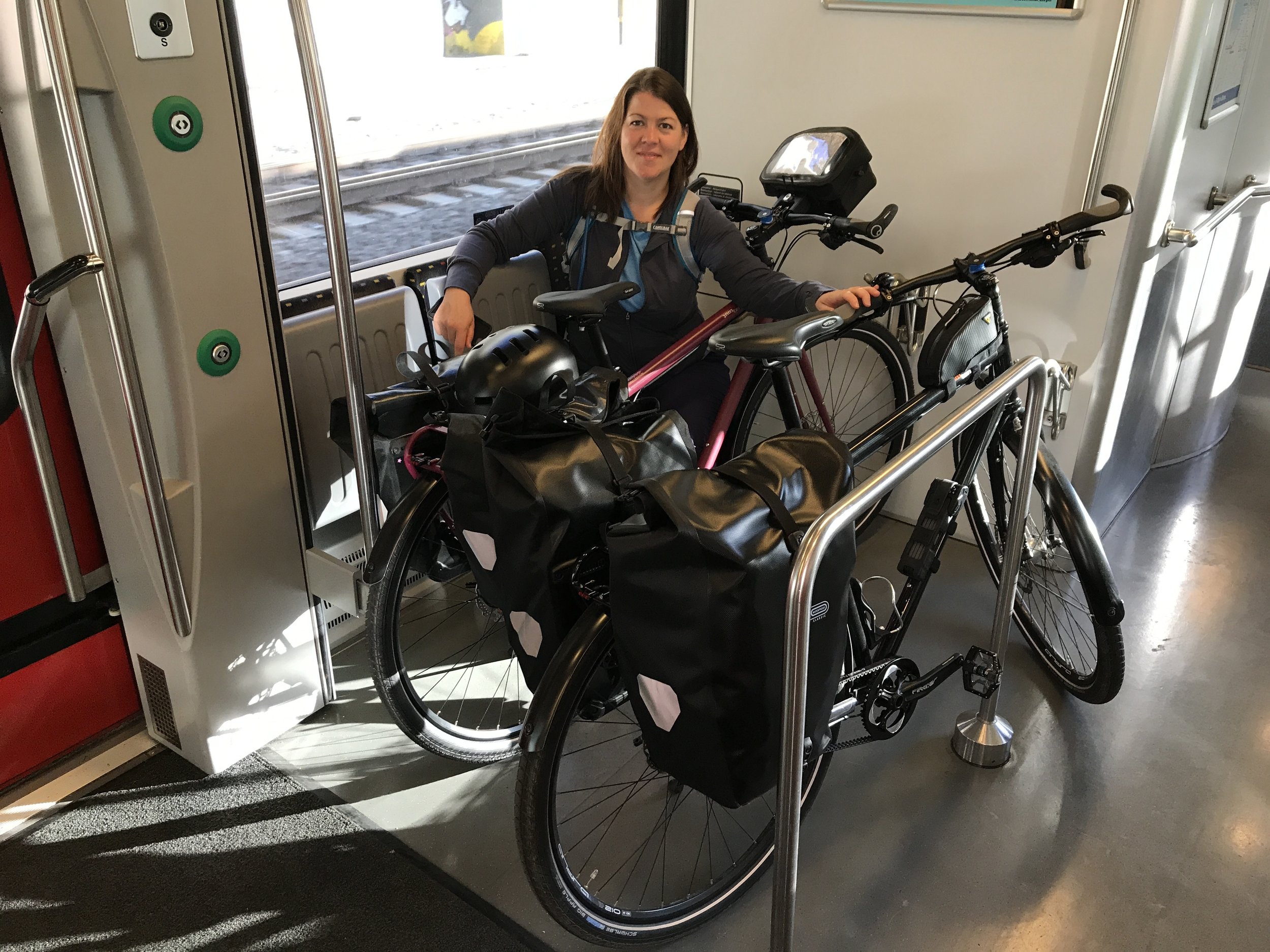 Luckily there is space on the train but it's not always so easy!
8:59 train from Basel SBB to Bern. Moving bikes in the train station is similar to navigating with a baby stroller, it's big and bulky and you need to take the ramps and elevators. This makes moving from platform to platform a game of strategy. You need to know which side of the train will have the platform so you can get off easily. Where are the elevators? You need to account time for all of this and it's a bit trickier than just moving with your own person or even with luggage.
Fortunately, we know the Basel station well and can plan accordingly. Bern station we don't know as well but we should still have enough time to switch trains. You have to buy a ticket for your bike for all modes of transportation in Switzerland but some trains also require you to purchase a reservation. The train we chose has no reservation required. All the 2nd class cars can hold 2 bikes. Since we are on the later train we had no issue with finding a spot for our bikes but in the summer you can bet that the spaces are limited.
In order to get the bikes on the train we needed to take off the panniers. Joern hung them up and locked them. Not too many times have I heard of things getting stolen from the train but it does happen occasionally.
10:04 train from Bern to Lausanne, we started to see mountains. We also started to figure out the best way to get the bikes on and off the trains with stairs. To get on the train, we took off the panniers since they made the bike a bit too wide and cumbersome. I put my bike on the train and then went back to grab the panniers while Jörn put his bike on the train. We kept our bags with us since the bikes were hanging. To get off the train, I took the panniers and exited while Jörn pulled down the first bike, he handed me the bike then went back for the second one and exited with the bike. Maybe this is too detailed but I hope to help other people that have never travelled with packed bikes on a train.
Another tip is to use the SBB app. While we are waiting we can check the configuration of the train to see where there is space for bikes. Some trains have bike space in every car, in other trains it could be in only one spot. Knowing in advance the location of the bike places we can position ourselves better on the platform.
At Lausanne we decided to coast down to the lake from the train station. It was a bit steep and with traffic but I managed it. Once we arrive at the lake we changed our clothes a bit, put on some sunscreen and started our ride.
Lausanne to St.Sulpice
6.97km, 32min, avg. speed 13km/h, elevation gain 32m, 23C
11:58-12:33
This first section was easy peasy and a great way to get started. This section was entirely paved and with dedicated bike lanes most of the way. The way is signed very well but we each had our phones also to help with navigation. It's helpful to see a bit further to anticipate a turn. There was some construction but this was also marked clearly and easy to follow.
We mapped everything using SwitzerlandMobility. I love, love, love, this service from Switzerland. You don't have to pay anything to view and print maps. I pay 30CHF a year to have the ability to plan out trips and get more details on elevation profiles, distances and to make my own routes. They also have a app that is super handy for on-the-trail navigation. Jörn likes to use ViewRanger which also has all the bike routes visible. Between the two services we were well covered.
The weather was quite nice, a bit too warm maybe but when you are biking the wind helps to keep you cool.
Using TripAdvisor Jörn found a nice restaurant in St. Sulpice called, Le Débarcadère. It's right on the water with a little green park out front. We would have liked to sit outside but we didn't reserve a table. Lunch took a bit longer than what we wanted but it was tasty. Jörn had a salad of tomato, rucola, and burrata with a dried meat. I had a salad with smoked duck breast and foie gras.
After lunch we took some pictures at on the dock and enjoyed the view.
St. Sulpice to La Sarraz
23.85km, 2h16min, avg. speed 10.4km/h, elevation gain 315m, 24C
13:34 - 16:03
This part of the trek was hard for me!!
We first went through a more industrial part of town and then into the countryside. We were finally away from traffic and could relax a bit more. Just as it looked like it would be a nice ride we met our first unpaved section of the trail. I'm not talking a nice flat surface that is just unpaved, no, we're talking about big rocks, constant jiggling, and super dusty bikes afterward.
It was nice to be in the shade during that section and it was fairly flat so I shouldn't complain too much. But this did make us think harder about picking our next train and how much unpaved kilometers we might ride. The mapping tool we use tells us the approximate distance unpaved.
After passing Mont Baoon we were supposed to go up quite a steep incline to Gollion. Looking at the map neither of us really wanted to do that plus there looked to be an easy way through on the lower part of the hill.
When we got to the bypass road we realized it was a private way, with specific signs that stated (in French so we claimed we didn't understand) that we were not supposed to use the road to go through. We did anyway.
At first, no issues. No one was at the farm, we rode right through. Then we came to the tougher part, the trail basically stopped and instead of the trail there was a pasture with cows. The grass was so high we had to dismount and walk the bikes through. We were still happier to go that way then up and over.
We had two more steep climbs, into Penthalaz and into Lussery-Villars. The one in Penthalaz was really steep but short, we stopped for water at the top. One of the best parts of Switzerland is the free, drinkable water, EVERYWHERE! The climb into Lussery-Villars, however, was brutal. By the time I reached the top I had numbness in my left hand. Later I researched this and it's common in bikers if you are holding your grips wrong, especially on climbs, lesson learned.
Our second big break for today came at La Sarraz. We stopped at the castle which is now being used as a museum but once had famous guests like Albert Einstein and Max Ernst. The original castle is thought to have been built in the 12th century. When we arrived there was no one there except the gardener. We ate a couple of hard boiled eggs and some nuts while looking north into the valley below. It was a great vantage point for a castle!
La Sarraz to Yverdon-les-Bains
22.11km, 1h35min, avg. speed 13.8km/h, elevation gain 30m, 28C
16:28 - 18:05
We didn't stay long at La Sarraz because it was already 4 o'clock when we stopped and we still had the remaining 22 km to Yverdon-les-Bains. Back on the bikes the remaining kilometers were so easy compared to the previous leg (30m vs 315m of elevation gain).
This last leg was primarily on flat country road. When you look at a map it's clear to see that this valley once was part of Lac de Neuchatel.
Even though it was an easier ride, I could really feel every push of the pedal in my shoulders and arms. I simply was not conditioned for this long of a ride. Not to worry, I survived to ride another day!
In Yverdon-les-Bains we easily found our hotel, Hôtel du Théâtre. It was right where you would expect it, next to the Theater! Such a lovely little place. They welcomed us, bikes and all. We called ahead to make sure there was somewhere to store the bikes. The room was fantastic, all newly renovated.
18:30 Jay knew I was exhausted so he went down to take care of the bikes while I attempted to take a shower. Attempted because 5 minutes after he left with the hotel key card the lights in the room went out. Power saving mode. I did eventually take a shower and put on some fresh clothes.
We walked through the old town on our way to dinner at Le Double R, a burger joint. The burgers were good but the beer was better. Needless to say I slept very well that night.
If you'd like to read more about this bike tour check out the other posts for days 2 and 3.